Nell's quirky homes among the gum trees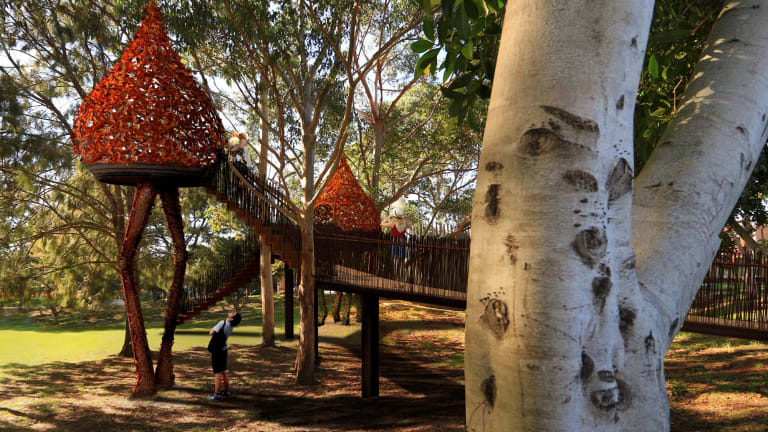 The structures will be clad in about 2000 individual steel gum leaves, many of them hand forged by teams of volunteers at workshops tomorrow and Sunday.
Each participant will have the chance to stamp their initials on the back of "their" leaf.
"They are going to be sort of pre-graffiti-ed or pre-tagged," says Nell, for whom the project also has a unique personal connection.
"My great-great-grandfather worked as a boilermaker here from the Depression to the '50s," she says. "He lived on the Central Coast and worked one week on and one week off.
"One of the great privileges of this project has been to become more interested in my family history."
Nell says her project, which has also been overseen by indigenous artists Hetti Perkins and Jonathan Jones, will represent a uniquely Australian take on the treehouse idea.
"The concept of a treehouse is quite European because European trees have those long, tall skinny trunks," she says. "Ours are more nestled in the trees.
"My treehouses are going to be at the same level as the trees so some of the real branches will be coming through the skeleton of the structure."
And she is particularly excited to see how people will react to the playful sculptures.
"They are a pace where you can just sit and be yourself – maybe have your lunch," she says.
"Maybe they will be a nice transitional place between work and home.
"There are a whole lot of ways that they might be used that I can't even imagine and that's cool."
Nick Galvin is a journalist with The Sydney Morning Herald
Most Viewed in Entertainment
Loading